Earlier this year we noted the challenges ahead for CIOs as they align spending with business needs, aiming to support the digital workplace and the employee experience, optimize cloud costs, become more resilient in the fight against cybercriminals, and enhance their ESG credentials. With 2023 already racing by, what progress have you made? Have you encountered any roadblocks along the way?
A recent pulse check found 83% of CIOs surveyed are under pressure to make budgets stretch further with a focus on improved cloud cost management and reducing mounting technical debt.
Another report highlighted how global economic uncertainty is placing new pressure on CIOs to expand their role, even as in-house IT teams shrink, to tackle areas normally led by other parts of the business such as HR, workforce management, sales, and marketing.
Given you'll soon report on 2023 progress and defend budgets for 2024, now's a good time to take stock and see if challenges and changing business plans mean you need to shift priorities for the remainder of the year and beyond.
Are your digital transformation plans stalling?
With the pressure on to accelerate time to value from digital investments, are your transformation plans stalling because you're trying to achieve too much or are you prioritizing the wrong projects? The CIO pulse study found 72% were behind in their digital transformation because of technical debt, with over a third citing rushed cloud transitions during the pandemic as the biggest reason. Other reasons for slow or no progress include lack of communication on new technologies, meaning users are unaware or untrained, as well as resistance to change.
While CIOs are prioritizing cloud investments for greater resilience and flexibility and to support new capabilities, ignoring tech debt will only exacerbate problems. As well as rushed cloud transitions, tech debt often occurs through a lack of testing during new software introduction or through development-led technology introductions that don't quite align with business needs. Shortcuts created during development create issues for future technology, requiring workarounds to be devised if they aren't addressed. Ask teams to identify the issues that are having the most adverse impact on your 2023 priorities and make plans to tackle those first.
Cultivating ongoing communications with business teams and leaders will ensure you prioritize the most beneficial digital transformation initiatives that drive value for the business and tweak them when goals change. Ensure end-user communications are a part of all IT changes. By communicating the reasons for change to users, linking it to positive business outcomes, and assessing the need for training/upskilling, your teams can aid the adoption of new tech.
Is growing complexity hiding cybersecurity vulnerabilities?
As IT estate complexity has grown, so too has the risk of data breaches, making cybersecurity a priority for many years. Even as budgets contract, 65% of organizations are planning to increase cybersecurity spending. New figures forecast that, between 2023 and 2028, the global estimated cost of cybercrime will increase by $5.7 trillion – up 69.94%, it's not hard to understand why.
Digital transformation will see more devices and applications connected at the edge, including third-party systems. As the enterprise user base continues to become more dispersed and teams deploy more devices and applications to serve their growing needs, securing data will be even more problematic. Data breaches are commonplace now, impacting customers, productivity and often resulting in hefty fines. Already this year T-Mobile has seen two attacks – the first leak impacting 37 million accounts - and has now experienced 9 data breaches since 2018! Organizations around the globe, including the BBC and the government of Nova Scotia, Canada, also confirmed data breaches tied to a critical zero-day flaw in MoveIt transfer software.
As cybercriminals work hard to identify software vulnerabilities it's vital for your teams to gain clear visibility of all hardware and software assets and maintain the constant cycle of updates and patches. Working with operations and site services teams, CIOs can lend their expertise to ensure smart building programs are incorporated into the cybersecurity policy too. The recently announced US Cyber Trust Mark, aims to make it easier to identify IoT and user devices with the greatest security. But, with many interworking connected devices in place, observability should be prioritized as this provides organizations with greater visibility across those complex dependencies within the IT estate, as opposed to traditional monitoring of single system failures.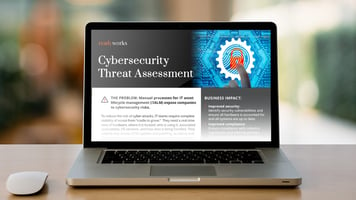 Are users struggling to find the data they need?
Observability is also going to help if your teams are struggling to overcome user digital experience challenges as more companies implement formal working policies to retain key talent. Using observability your teams will be able to measure the complex relationships between user devices, applications, locations, and more to identify potential issues and correct them before users are impacted.
But with another Gartner study finding that 47% of digital workers struggle to find the information they need to effectively do their jobs, it's clear that IT can do more to aid talent retention. The study found that 40% of digital workers use more than the average number of applications with 5% using 26 or more to accomplish their work. 66% of respondents agreed better business outcomes could be achieved if IT provided universally accepted and supported applications and devices.
Ask your teams to lead the way in tackling cross-business initiatives including working with business units and HR to identify ways to streamline activities such as onboarding and offboarding and implement proactive digital experience monitoring.
Sustainability initiatives falling by the wayside?
A 2022 KPMG survey found that CEOs are balancing the need to build resilient, transparent ESG plans with the possibility of having to pause them or reconsider their approach in light of the current economic climate. Growing regulatory requirements are adding complexities for CIOs as they attempt to tackle ESG priorities. But by proving these credentials – reducing emissions and reporting on progress – companies will see greater rewards in terms of attracting talent, customers, and investors.
Struggling to optimize costs?
The latest Gartner figures predict worldwide IT spending will increase by 4.3% over 2022 figures as IT focuses on inward-facing projects. Software spending will see double-digit growth while spending on devices will decline due to the impact of inflation.
CIOs should work with teams to prioritize ITAM initiatives that make the best use of existing investments. This includes asking teams to work with business units and HR to create user profiles and assign typical hardware and software packages to streamline onboarding and offboarding activities and optimize hardware and software costs while also aiding other business units such as HR and procurement.
IT spending patterns highlight a shift to automation
The Gartner Worldwide IT spending forecast highlights a shift to automation, to create new efficiencies, as many lose the battle for IT talent. It's clear that as budgets continue to be squeezed and your list of priorities grows, you must also focus on retaining IT talent and directing that talent to where it's most needed.
CIOs should investigate tools that allow teams to automate mundane, repetitive, admin tasks. This can be achieved using a digital platform conductor (DPC), a tool Gartner has described as 'transformational' in six hype cycles, explaining how it addresses critical issues for I&O leaders as their digital infrastructure becomes more complex.
A DPC removes those complexities by connecting to the disparate tools IT relies on, analyzing the data held within them, and orchestrating business processes. Using a DPC you and your teams can:
Gain clear visibility across the IT estate from any angle in real-time.
Track issues and rank risks to tackle technical debt, cybersecurity, and user digital experience.
Automate end-user communications and streamline the scheduling of training to remove barriers to new tech adoption.
Assist observability by augmenting tool capabilities including cybersecurity or device monitoring to make better and faster decisions for resolution.
Streamline ITAM and cross-business automation initiatives.
Better identify where changes should be made to cut costs or advance ESG initiatives and automate reporting to show adherence to regulatory requirements and audit trails.
Book a demo with ReadyWorks to understand how a DPC can help you overcome obstacles to achieving 2023 goals and identify 2024 priorities.