Annual employee turnover in the US has jumped nearly 20% from pre-pandemic numbers according to Gartner, and even while layoffs are now rising, for companies focused on the long-term, there's an opportunity to attract and retain key talent.
Technology plays a huge role in today's hybrid working environment and IT can use it to deliver a proactive digital experience that begins on day one. A formal onboarding program can increase employee retention by 82% and new hire productivity by 70%.
A modern approach to user onboarding
Onboarding requires IT support and coordination across multiple departments, including HR and procurement, and access to the databases and systems they use. Add in the explosion of remote workforces, the growth in device complexity, and the adoption of ever more SaaS services and user onboarding and offboarding is more complex, time consuming, and error-prone than ever.
Unfortunately, onboarding users is typically managed manually via email and service tickets. IT spends endless hours gathering requirements for new employees, chasing down approvals, figuring out proper access controls, provisioning software, and coordinating distribution of hardware.
Managed manually, onboarding inflates IT labor costs and causes delays in enabling new employees to be productive.
By integrating systems and automating workflows, you can:
Manage resources more effectively. Use start dates within HR systems to trigger workflows. For example, start dates can be used to send notifications to desktop teams to build systems and assign software licenses based on predefined personas (see more below), special requirements, and manager approvals.
Improve the user experience/reduce turnover: A negative onboarding experience is twice as likely to have users searching for new opportunities. And a higher turnover means more onboarding requests for IT.
Reduce costs: Track and reclaim assets from users as they leave or move to new departments and redistribute them to new hires.
Increase compliance: Automate communications and reminders to users as part of the onboarding process. Track their completion of mandatory training that pertains to security and compliance policies.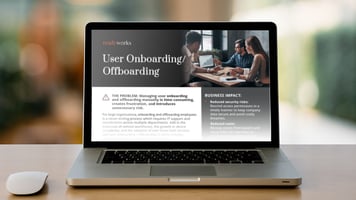 Collaborate to create strong processes and streamline onboarding
To refine your enterprise onboarding strategy, work with business leaders and HR to:
Define personas to inform workflows. Understand common hardware and application needs by user characteristics, such as role, business group, location, and level, and assign a typical 'package' of devices and applications to each persona to inform subsequent workflows.
Agree how deviations to those packages should be managed (where users have specific requirements).
Define 'ideal' lead times, so IT isn't bombarded with last-minute requests. Factor in volumes, for example, to onboard large numbers of users for a department during a hiring ramp up.
Understand regulatory requirements: For example, what policies should users be made aware of? Which personas are required to complete training courses before access rights can be granted? How is this training certified?
You should also document how and when workflows should be triggered, and identify task owners and the approval chains required for:
Onboarding: These should include the building and shipping of devices, access provisioning and communications to users, HR, and business teams.
User department moves: Beyond the day one onboarding experience, you'll need to define the process for meeting users' needs as they move departments. This could include building and shipping new devices, reassigning costs, redefining policies, and ensuring data is updated across all systems. You may also need to leverage employee offboarding workflows, such as deprovisioning access to applications and reclaiming assets no longer required.
The challenges ahead
With onboarding processes in place, how easy is it going to be to follow them? A Forrester study found while companies are investing in automation only around a third of IT tasks are automated, leaving teams overwhelmed by the volume of work. Because of the many departments and systems involved in onboarding activities, coordination among them is required.
When managed manually, onboarding processes eat up valuable resource time as teams chase missing data as well as business and HR approvals. Any delays can impact the purchasing and shipping of equipment as well as the provisioning of access permissions, increasing the likelihood of users not having the tools they need to begin work.
Paperwork-heavy processes don't just affect those teams in charge of coordinating activities, they can be a real turn-off for users, particularly new Gen Z's entering the workplace. The average new hire must complete 41 administrative processes. By finding ways to automate workflows you could reduce the burden on them, as well as for departments across the company, and dramatically enhance the onboarding process.
Use a digital platform conductor to automate user onboarding
Using a digital platform conductor (DPC), a tool cited in four Gartner hype cycles, you can ditch the manual processes. A DPC connects to all your disparate systems and management tools and collects new user requirements through configurable portals and forms to automate approvals and seamlessly manage onboarding requests:
Using a DPC you can use dates and events to orchestrate onboarding workflows. For example:
Collect new user requirements through configurable portals and forms. Use automated workflows to obtain provisioning approvals. Use self-self-service portals to allow users to manage their own information.
Allow IT and HR staff to create and manage workflows for user account creation, approval, removal, and resource provisioning.
Trigger activities and update records by integrating with existing systems including ticketing platforms, HR systems, identity management, asset management, access controls, and CMDBs.
Automate the logistics around hardware provisioning including manager approvals, end-user communications, delivery scheduling, asset shipping and tracking, and updating systems of record.
Log all activities taken with respect to user onboarding / offboarding. Confidently respond to security and compliance audits with highly accurate, real-time data.
Generate reports to provide insights on the process including metrics such as the number of accounts created, number of accounts removed, and time taken to complete these processes.
With all workflows digitally recorded, you can easily access reports for audit trails and compliance purposes.
ReadyWorks is a digital platform conductor. Book a demo to understand how ReadyWorks can automate user onboarding for your company.