As businesses come under greater pressure to adopt more sustainable practices and reduce greenhouse gas (GHG) emissions, many are turning to CIOs for help. According to a 2022 McKinsey article, enterprise technology contributes significantly, accounting for around 1 percent of total global greenhouse gas emissions (about half of the emissions from aviation or shipping).
While much has been talked about the challenges of making data centers more sustainable, end-user devices generate up to twice as much carbon globally. In part, this is because of the proliferation of laptops, smartphones, and other devices. But it can also be attributed to their shorter lifespan, compared to that of servers and other larger equipment.
To aid the reduction of GHG emissions within their enterprise, IT should track, report, and find ways to reduce or offset:
Scope 1 emissions: Direct GHG emissions resulting from sources directly owned or controlled by the enterprise, including emissions related to user devices and data center assets.
Scope 2 emissions: Indirect GHG emissions associated with the generation of power, heating, and cooling purchased by IT and used by IT assets.
Scope 3 emissions: GHG emissions that IT is indirectly responsible for across the asset lifecycle, including shipping and disposing of assets.
Here are 5 tips to reduce GHG emissions.
1) Move to the cloud
A move to a public cloud data center will allow businesses to reduce GHG emissions related to powering and cooling on-prem assets and adopt a model that allows them to consume only the resources that they need. This isn't simply a shift in the scope of emissions; while hyper scale cloud data centers continue to be massive power consumers, many are investing in sustainable initiatives to offset this footprint.
If building privately owned cloud data centers, IT has the opportunity to invest in sustainable solutions from the outset.
Dispersed workforces also provide opportunities to invest in cloud capabilities that enable more sustainable practices. Virtual desktop infrastructure (VDI), for example, enables the management of desktop operating systems to be centralized in an on-premises or cloud data center. This not only reduces the risk of data loss if the device is misplaced or stolen but with most of the processing power handled at the server, device life is prolonged. IT can then deploy 'thin clients' to certain users, such as those that access less-intensive applications from a stable network, or those who share assets, such as call center shift workers, to reduce emissions, as thin clients use less power and generate less heat.
2) Right-size on-prem resources
Growing regulatory requirements for certain industries mean there will always be a need for on-prem resources. But are you utilizing them efficiently or are you supporting more than you need? There are a few questions you can ask yourself:
Can you consolidate assets? Are you supporting outdated or redundant apps that you could consolidate, in turn allowing you to reduce server requirements to support a more streamlined estate?
Are you using servers effectively or could you turn off some equipment and benefit from reduced power (and potentially cooling) costs?
Do you need to continue equipping office spaces in the same way? For example, given the move to the paperless office and more dispersed working, can you reduce the number of printers, printers, photocopiers, or other physical equipment at sites?
3) Shift to eco-friendly suppliers and technology
As supplier agreements come to an end, focus your attention on working with sustainable suppliers (including IT asset disposition vendors):
Use online resources, including research reports such as the Sustainability Perceptions Index that have already done the work for you in terms of identifying more sustainable suppliers.
Identify a checklist for potential suppliers to return during the procurement process focusing on waste and packaging policy, compliance with environmental legislation, their social responsibility policies and buying practices, and if they use a globally recognized certification process to assess their environmental impact, such as ISO 14001.
Work with procurement to incorporate carbon offsetting into agreements for both power and equipment suppliers and identify device suppliers that rank highly among credible organizations and sites.
4) Rethink ITALM
Audit your IT asset lifecycle management processes thinking about how you manage assets from "cradle to grave" and ask:
Can you recover and reuse assets when users are offboarded? Or do smartphones, laptops, and other equipment sit unused in department

cupboards

?
What is your ITAD policy? Are you invested in any green recycling or reuse initiatives working with relevant charities?
Do you keep track of device errors that impact longevity, allowing you to identify makes and models of devices to avoid in the future?
Are you on top of OS updates and patching for the devices you support in your organization? Where some updates improve functionality such as battery life or create fixes for known issues, it can be vital for the longevity of devices to keep them updated.
5) Track data against goals
With greater pressure on companies to report sustainability figures, it's important to find a way to measure emissions on an ongoing basis, to show how you are making improvements. You should measure and develop an inventory of Scope 1, 2, and 3 emissions, to show how you are making progress against your sustainability goals.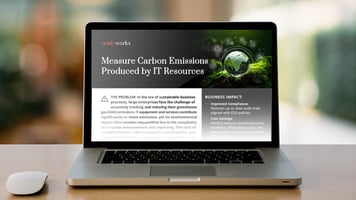 Find out how ReadyWorks can analyze your IT infrastructure, quantify the carbon footprint, and provide actionable insights to reduce environmental impact.
DOWNLOAD THE SOLUTION BRIEF
How to automate carbon emissions reduction programs
Identifying ways to reduce carbon emissions and reporting on results can be daunting for IT teams to manage if they are using manual processes. But, there is a way to automate these programs and improve transparency for carbon emissions reduction programs attributed to IT, and that's by using a digital platform conductor (DPC).
Highlighted in four Gartner hype cycles, a DPC connects to and leverages the data held by all the monitoring and management tools, including CMDBs, asset management systems, ERPs, DEX systems, IoT platforms, and more. It automates data aggregation, normalization, and analysis, to determine Scope 1, 2, and 3 GHG emissions that can be attributed to IT operations and provide actionable insights to reduce them.
Using a DPC you can:
Analyze asset usage (including applications) and make intelligent decisions about consolidation or shared usage (where possible, such as for shift workers using thin clients in a VDI deployment).
Orchestrate cloud migrations and VDI deployment. Leverage real-time data across your IT estate, including all interdependencies, to accelerate your migration while reducing costs and risks.
Automate the distribution and aggregation of supplier checklists and questionnaires to simplify selection, leveraging adaptable communications templates.
Better understand asset needs in shared spaces, leveraging clear reports on site usage and automated surveys to equip office spaces in a more sustainable way.
Benefit from a more accurate inventory of assets across the entire IT estate to make better-informed ITALM decisions that align with carbon emission reduction goals.
Aggregate data from device monitoring tools to identify common device issues and ways to prolong the life of devices.
Identify assets that can be reused in the organization.
Comply with GRI, SASB, and TCFD reporting frameworks.
Measure progress against goals and identify actional recommendations to reduce GHG emissions as you evolve operations and integrate new IT capabilities.
Book a demo with ReadyWorks to understand how a digital platform conductor can deliver the transparency you need to track, report, and make intelligent decisions about GHG emissions in your enterprise to reduce IT's carbon footprint.