As energy costs remain high and businesses face growing regulatory pressures, more are looking for ways to increase the sustainability of operations. A greater focus on environmental, social and governance (ESG) is adding pressure on leaders to walk the talk if they want to attract business, backers, and key talent. Tracking and reporting sustainability figures are a good way of demonstrating commitment to potential employees.
A Q&A published by Gartner suggests enterprises focus on developing eco-friendly data centers. Despite the move to the cloud, legacy data centers continue to consume huge amounts of power. Gartner breaks this usage down: 40% servers, 39% cooling and power, 18% storage, and 3% network. While increasing power usage, hyperscale data centers are also investing in green initiatives, including energy-efficient equipment and support systems to balance power consumption. That means, for those with ageing equipment, a move to a shared facility could aid their efforts to enhance operational sustainability.
On-prem vs Co-location: What to Consider
For many industries governed by strict regulations, such as finance and healthcare, there will always be a need for some data to remain on-prem. So, if you are managing the balancing act of optimizing owned resources, while moving some data to a co-located facility, consider the following:
Regulatory requirements/enterprise policies: What data must you keep on-prem to maintain regulatory compliance? Consult business leaders and enterprise policies to work out what can be migrated and what you must support in an owned on-prem data center.
Audit asset usage: Understand current asset usage, including server utilization which Gartner suggests is often less than 50%, if not as low as 20%, and define your needs going forward, in terms of space and equipment at a co-located facility, and as you evolve your owned data center. Work with business leaders to understand any future business plans that could impact those needs to right size investments.
Compare ESG credentials of data center service providers to understand how they align with your enterprise needs. Leverage comparison sites where you can. Also, investigate data center service providers' commitment to renewable energy sources and technology such as AI and machine learning to drive sustainable initiatives, including predictive maintenance, that ensure longevity of equipment.
Building a Sustainable Data Center
Choosing a sustainable data center provider will only get you part of the way if regulations require you to retain some data on site. That means right sizing your owned data center footprint, and investing in sustainable technology, processes, and suppliers at the right time:
Consider leveraging international standards for new data center builds such as ISO ISO/IEC 22237, Uptime Institute's Tier Classification system, Telecommunications Industry Association TIA-942 standard, or the European DIN EN 50600 standard. In doing this you will demonstrate how you are optimizing performance and security.

Resist the need to prematurely replace equipment and use real-time health analytics to maximize the use of data center assets.

Gradually move to more sustainable/power efficient servers as equipment nears end of life and make a move to renewable energy and high-efficiency power sources. In the European Union, for example, all servers and data storage products sold in the EU and European Economic Area after March 1 2020 had to comply with Lot 9 regulations in the EU's Ecodesign Directive, aimed at making energy-saving improvements (with some assets exempt).
Consolidate/remove/turn-off any unused hardware you discovered in your audit.
Introduce more energy efficient cooling techniques such as variable-speed fan cooling and liquid cooling, and where possible, identify locations for data centers that can aid with cooling.
Continue to Optimize Data Centers
Create goals for your move to a more sustainable data center ecosystem and measure progress regularly against those goals. Even with your transition complete, as more bodies call for companies to report ESG figures, you should continue to track the sustainability of operations. This means:
Continuing to track and report power usage.
Conducting regular audits of your assets, for example to understand server usage to improve asset utilization on an ongoing basis.
Maintaining a continuous schedule of patching and updating systems to protect servers from cyberattacks and to take advantage of new functionality such as improved storage and performance.
The Challenges Created by Manual Workflows
To demonstrate how you are achieving sustainability goals and meeting regulatory requirements, you'll need to track assets and usage, such as power usage, more accurately, measure more data, and spend more time reporting and presenting figures, making more work for your IT team, and eroding any cost benefits.
For example, if you want to monitor asset health for more sustainable use of technology, you may have implemented system monitoring and alert tools, but you'll need more to accurately troubleshoot and resolve issues. The time it takes to aggregate data and manage remediation workflows manually could be counteractive to your efforts, and in turn, if root cause of performance issues are unpatched or outdated assets, delays to resolution could mean company data is placed at risk.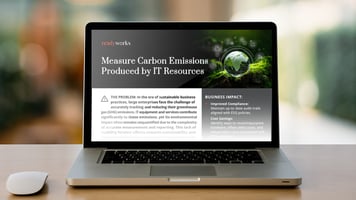 Learn how ReadyWorks can help you achieve ESG goals including compliance with green data center initiatives.
DOWNLOAD THE SOLUTION BRIEF
Use Automation for Better Decision Making
Reliance on manual processes will add effort to any program and errors are likely to creep in, which could impact your ability to report figures in a timely and accurate way to meet regulatory requirements and counteract your efforts to increase sustainability of your operations. There is, however, a way to drive accuracy into the planning, implementation and ongoing maintenance and management of your sustainable data center deployments using a digital platform conductor (DPC), a tool highlighted in four Gartner hype cycles.
A DPC connects to all your disparate systems held in and outside of IT and aggregates the information they contain to provide you with a clear view of your assets and usage for better decision making. It then uses that data to orchestrate your tools and automate workflows. Using a DPC you can:
Better understand usage figures, for example server usage, and view dependencies from any angle, to make decisions using accurate data for

data center resource planning

and site selection, to

mitigate migration risks

and optimize resource usage for more sustainable operations.

Analyze IT data in real time and use it to determine Scope 1,2, and 3 GHG emissions.

Easily identify assets nearing end of life to replace them with more sustainable equipment and plan and manage the introduction of those assets leveraging automation.

Leverage automation to maintain a regular schedule of updating and patching assets for greater performance and security.

Connect to more sources to track data more accurately such as power usage and understand for example, power use by data center or by server, both to simplify reporting and to drive better decisions about power usage as you continue to improve sustainability of operations.

Augment asset monitoring tools with automated troubleshooting and issue resolution, using parameters to trigger change and automate workflows such as patching and updating systems to prolong asset life, keep data safe and reduce team workload.

Automate

application rationalization

for better resource utilization.

Access clear dashboards on usage to streamline reporting activities to show how you are complying with applicable ISO guidelines as well as country and global regulations and reducing the impact of your data center operations on the environment.
Using a DPC you can leverage automation to gain an accurate picture of your data center carbon footprint, make intelligent decisions, on how to improve or offset that, and automate workflows to cut the time and effort of continuously enhancing operations and reporting ESG data.
ReadyWorks is a digital platform conductor. Schedule a demo with ReadyWorks to understand how to simplify your enterprise transformation to more sustainable data center operations and seamlessly integrate ESG reporting to comply with growing regulatory requirements.