If you don't have a clear view of future IT asset needs, you aren't alone. It's no easy task. As companies settle into more permanent hybrid working routines, hardware and software requirements are becoming more complex. It's getting harder to gain visibility into inventories and usage, and to understand where devices are in their lifecycle. As inflation and rising prices continue to devour budgets, teams are coming under greater pressure to forecast demand more accurately.
The constant pace of user onboarding and offboarding, including movement around the company, also means constantly changing hardware and software requirements, making it difficult to predict needs. Taking this into account – as well as hardware performance issues, warranty expirations, and changing business needs – is critical to accurately forecasting and budgeting IT needs across the organization.
The consequences of poor IT forecasting
Poor forecasting and demand planning can create far-reaching issues around the company:
User experience is impacted, as is productivity, if IT can't equip new hires correctly.
Digitalization plans are impeded without access to the correct technology.
Limited visibility into software usage can mean licenses are over purchased (resulting in wasted spend) or under purchased (potentially resulting in large fines).
Hardware over ordering results in surplus stock that eats into profits.
Supplier relationships can be damaged if you're always asking for fast turnaround times and are vague about future requirements. That could have an adverse impact on future agreement terms.
Other teams can be impacted down the line, such as IT help desk teams if asset refresh dates are missed and disgruntled users begin to flood the help desk with status updates and requests about failing or under performing devices. Build teams can be equally overwhelmed if unprepared for a ramp-up in onboarding.
Forecasting for success
With ongoing supply chain volatility exacerbating the impact of poor reporting and forecasting, how can your teams drive accuracy into these activities?
1) Access current and historical data
Using current and historical data, you can, to an extent, predict what will happen in the future. This means pulling together information on:
Current asset inventory. Pull together a list of current hardware and software to determine usage and find out if any devices are hanging around unused by aggregating data from tools and systems and confirming details with business teams, data center managers, and end users.
Historical purchasing information. Work with procurement teams to gain access to records and annual hardware, software, licensing and warranty purchases and trends over time.
Historical hardware issues and replacement costs.
Product lease agreements, including when they come to an end, lead times for reorder, and extension options. Use this and warranty information to schedule asset refresh programs.
Product warranties/systems performance. When do product warranties expire (if purchased rather than leased)? Can you extend lifecycles by implementing proactive monitoring of systems performance and automating troubleshooting (consequently enhancing the user digital experience)?
Hard to access items. Do you have details on long term out-of-stock hardware or devices that can have a long lead time? With greater understanding, you can identify when purchase decisions need to be made or take steps to source more readily available alternatives.
2) Align with future business needs
Work with leaders across the business to identify future needs and implement a process that ensures IT is notified of upcoming plans that could impact asset needs. This should include:
Hiring/downsizing forecasts..
Changes to working practices – for example policies that encourage hybrid working and result in demand for new types of software and hardware to enable teams to work remotely.
Future projects, such as digitalization plans, that require new hardware or software.
By collecting and implementing this data regularly, you can better prepare for future needs and gain greater visibility into assets that could be reused – such as when users are offboarded and devices can be wiped and configured for new users, or software licenses re-harvested.
3) Create user profiles and asset 'packages'
By defining common hardware and software packages for users, you can better forecast asset needs, using the information you get from business teams about future business plans. Do this working with HR and other teams to define typical software and hardware user requirements based on details such as business group, level, job type, access permissions, and location. Also create a process that allows for deviations from the norm, to cater for specific user needs
4) Create processes for better cross-team communication and notification
If you don't have this in place already, you need to create processes that ensure relevant teams are ready to manage events such as planned hiring spikes. That means working with procurement and others, such as build teams, to understand the notice period you need to give as well as supplier lead times to reduce the impact of supply chain volatility.
Accurately forecast asset needs using a digital platform conductor
With IT teams already pushed to their limits, how do you go about managing all this manually? It's going to take time to pull together an asset inventory, confirm ownership with teams and individuals, and work with procurement, and others to get access to and analyze historical data. Working with business teams to get an idea of future needs on a regular basis is also going to eat up resources.
By implementing a digital platform conductor (DPC), you can automate repetitive administrative tasks associated with accurate IT foresting and free up your teams' time to work on more rewarding work. A DPC connects to all the disparate tools used to manage your IT estate as well as other relevant tools, databases and repositories used around the business. It leverages the information they hold, normalizes, and analyzes it and uses that data to orchestrate tools and automate change.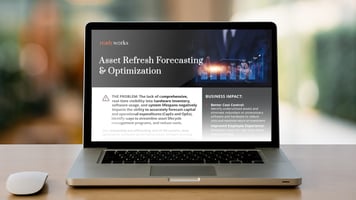 Using a DPC for IT forecasting and demand planning you can:
Automate data aggregation to gain a clear view of your current hardware, software, OS versions, applications, usage, databases, and interdependencies.
Automatically update IT asset data across systems when change occurs (e.g., user offboarding/onboarding). This enables an accurate view of your inventory, including the number of unused software licenses or devices that can be reassigned to other users.
Gain full visibility into lease agreement expiration dates and use those to trigger and automate asset refresh programs from user notification through shipping and deployment.
Access product warranty information, together with systems usage, to make decisions on when to replace company-owned equipment.
Automate end-user and business surveys as well as notifications of business plans that will impact future demand across the business.
Easily identify outdated operating systems and coordinate OS updates with asset refresh cycles and forecasting.
Identify unused hardware and potential application redundancy and automate the process of consolidating resources.
Make better-informed decisions to prepare accurate IT asset forecasts for business leaders, procurement, and other teams.
Automatically update all systems of records and assign all assets to employees, department, and cost centers.
Book a demo to understand how ReadyWorks can help you enhance IT asset forecasting activities to meet the needs of users and business leaders.