If troubleshooting and IT maintenance are taking your time away from other critical programs, you aren't alone. Already stretched IT teams are being pulled in multiple directions to tackle growing cybersecurity threats, economic and supply chain uncertainty, and increased regulatory requirements. Even as many attempt to implement digital initiatives, they're being distracted by the continuous need to troubleshoot user and network issues.
One survey found that 42% of IT professionals spent too much time on troubleshooting. Supporting an increasing number of devices, applications, and ever-more distributed end users, combined with network issues and manual processes intensify the problem and contribute to IT backlog.
The challenge of manual root cause analysis
Finding the root cause of an issue can be like trying to find a needle in a very large haystack. It often requires aggregating and analyzing event logs from multiple systems. And the longer it takes, the higher the impact on the business – lost productivity due to system downtime and potential loss of revenue.
While proactive monitoring tools can identify an issue, getting to the root cause still requires time and effort from IT. With so many interdependencies across the IT estate, there can be multiple possible causes for any issue. Unfortunately, monitoring tools can't give you the background detail you need for comprehensive troubleshooting. If, for example, you are alerted to an issue with a user's device, you'll need to understand many things, such as how the user is accessing services, what the device is and what OS is installed, what applications are installed along with their version or patch status, and what applications the user was accessing. Because this information is held within many tools across the estate, this means manually trawling those tools, potentially contacting the user for more information, and aggregating and analyzing the data.
Once you've identified the issue, resolution takes time, especially when the process is managed with manual processes. For example, manually opening and closing tickets in ITSM systems can take 10-15 minutes or more per issue. The inability to access shared knowledge about common solutions in one central repository and the lack of automated workflows based on these solutions also extend resolution times.
The time it takes to discover the root cause of a network issue and resolve it isn't going to go unnoticed by end users or leaders wanting to enhance the digital employee experience, particularly if it's a known or recurring issue. Events that impede productivity and potentially the bottom line will put the spotlight on IT (and not in a good way).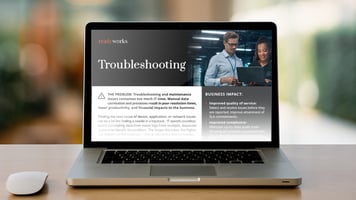 Use automation for proactive IT troubleshooting
Using a digital platform conductor (DPC), a tool highlighted in four Gartner hype cycles, you can implement automation to reduce the hours you spend on mundane, repetitive tasks associated with troubleshooting.
A DPC enables this by connecting to your many disparate IT tools – including ITSM ticketing systems, configuration platforms, identity management systems, and proactive monitoring tools – and accesses and aggregates the data they contain in real-time. A DPC can then use this information to orchestrate those tools and automate workflows to resolve issues.
By implementing a DPC to automate troubleshooting you can:
Aggregate event logs from multiple systems to identify the root cause of issues.
Identify connected devices that are not operating within normal parameters.
Trigger workflows to address abnormal device or network conditions.
Create workflow templates for common solutions that resolve common issues.
Automatically open and escalate service tickets.
Trigger automated communications to owners and stakeholders to provide ticket status.
Use a configurable self-service portal for end users to confirm information (e.g., location) and schedule service.
Automatically notify third-party vendors when support is required.
Log all activities in one central place.
Using a DPC you can cut the time and effort of troubleshooting issues, and resolve them before users, productivity or the bottom line are impacted.
ReadyWorks is a digital platform conductor. Book a demo to understand how you can automate troubleshooting workflows to improve the mean time to resolution (MTTR).