Can you trust your configuration management database (CMDB)? Can you rely on it to see where all those devices that you handed out in 2020 are now? Do you know which users could be affected by an outage without cross referencing data from your CMDB against other sources? If you answered no to any of these questions, it's not surprising. While you want your CDMD to be the 'single source of truth' it isn't. The accuracy of most CMDBs hovers around 60%.
There are multiple "sources of truth" when it comes to data, and each source provides only one piece of the puzzle. There's also missing data, inaccurate data, and conflicting data among systems. Collecting and correcting data manually takes too long. Maintaining it via spreadsheets is a nightmare.
There's constant onboarding and offboarding of users, users change roles, they change addresses, hardware gets replaced, new software gets installed, operating systems get upgraded and patched…the list of changes is endless. Each data source could present the same configuration item (CI) slightly differently, creating multiple entries. With the average project backlog being around 3-12 months, can you really afford to devote team members permanently to managing your CMDB?
"Industry statistics indicate that only 25% of organizations are receiving meaningful value from their CMDB investments."
- Gartner
The art of data wrangling
So, how do you use your CMDB data to manage OS updates or system patches, or to identify a user's address to ship a device to them? Usually that means pulling information from other IT management tools, aggregating that data by copying and pasting it into spreadsheets, painstakingly checking it line by line, and then contacting people to reconcile duplicate entries or populate gaps.
That can take months. And in the meantime, the business has seen further change, meaning your data is old once again. And, if you are relying on manual data entry, the data very likely contains errors, which jeopardizes the success of your program(s). For example, you could block admin access to the CEO's calendar during O365 migration, blow up a trader's access at a crucial moment during an OS upgrade, or take down patient healthcare data during a server migration.
It could help to put in place a policy that defines the way data should be handled in the organization – ensuring all data manually input into a CMDB is done so in a prescribed format. But it probably won't help that much. Other data sources will use different data formats and it's human nature for people to forget when making updates.
Clean your CMDB using intelligent automation
There is still hope for your CMDB if you use it in conjunction with a digital platform conductor (DPC), a tool Gartner has highlighted in four hype cycles. A DPC connects to all data sources across your organization – ticketing, configuration management and discovery tools, HR, purchasing, finance, security and every other relevant database to access and aggregate the data they contain automatically.
A DPC analyzes data coming directly from source systems to identify anomalies before they get committed to your CMDB. It identifies data gaps and inaccuracies in existing records and automatically cleans the CMDB and all data sources.
ReadyWorks is a digital platform conductor.
With ReadyWorks:
Intercept & analyze data coming from all sources on an ongoing basis to ensure accuracy, completeness, and compliance.
Scour the CMDB identifying and correcting anomalies, conflicts, and duplicate entries. Use automation to gather approvals when changes need to be verified.
Gather information directly from people using personalized data collection portals and automated communications.
Import, clean, and re-distribute data hiding in spreadsheets and other disconnected data sources.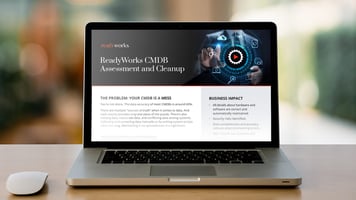 Use ReadyWorks to assess and clean your CMDB. Download the solution brief.
DOWNLOAD NOW
Positively impact the business
ReadyWorks continuously pulls data from all your sources. So, as changes occur in the business, HR records are updated, devices are patched, applications are installed, etc., your CMDB is updated too automatically.
Business impacts include:
Increased employee satisfaction through improved service delivery.
Identification of risks and improved ability to implement risk management strategies.

Cost optimization

through the identification of underutilized assets, consolidation of resources, and reduction of overprovisioning.
Improved regulatory compliance by ensuring all assets are properly inventoried, secured, audited, and monitored.
Increased agility by allowing IT to quickly respond to changing business needs.
Reduced downtime and service disruption due to a complete understanding of the dependencies between IT assets and teams.
Use ReadyWorks to assess and clean your CMDB. Schedule a demo today.