According to Gartner, the digital workplace "enables new, more effective ways of working; raises employee engagement and agility; and exploits consumer-oriented styles and technologies." Yet I&O leaders are struggling to automate workplace experiences, negatively impacting budgets and employee experiences.
With an increasingly dispersed end-user base and talent shortage, I&O leaders are being challenged to enhance the workplace experience and provide employees with everything they need to work from anywhere, over any device. As IT capabilities evolve to enable and optimize this 'digital workplace,' many are unable to take full advantage of the hybrid digital infrastructure management (HDIM) tools they are using to deliver it. They may be able to deliver simple automation such as ticket creation for password resets, but they're finding it harder to automate workflows across larger, more complex programs.
The reason for this? First, think about where you have already introduced new functionality or areas you want to improve in the future:
Unified endpoint management (UEM)

IT asset management (ITAM)

IT service management (ITSM)

Digital experience monitoring (DEM or DEX)

Desktop-as-a-Service (DaaS)/Virtual desktop (VDI)

Cybersecurity asset management (CSAM)

Governance, risk & compliance (GRC)
Each requires a distinct HDIM tool, which in turn increases complexity. While these tools assist you in managing a particular area, they don't talk to each other, preventing a unified, automated approach as you roll out change.
The Role of Automation
For any IT change program, you'll need to interact with multiple HDIM tools. When addressing automation, you should focus first on the workflows where human input offers the least value before implementing more complex cross HDIM tool orchestration. Consider the following:
Unified Endpoint Management provides a single interface to simplify management of all your PC, mobile, and other devices. Automation can be used to coordinate workflows to manage simple password resets or new endpoint provisioning, or to orchestrate more complex programs such as automating the scaling up or down of resources, leveraging usage patterns.
IT Asset Management (ITAM): Use automation to reconcile software license ownership and usage or scale to deliver a holistic ITAM program. Leverage data across your HDIM tools, to trigger automated workflows and orchestrate the accurate tracking and managing of assets across their lifecycle to reduce security and compliance risks and optimize costs.
ITSM: Automate tasks such as populating online fields to open a ticket. At scale, cross HDIM automation can be used to orchestrate workflows end-to-end across large change programs, for example to update a fleet of servers.
Digital Experience Monitoring. To gain the most value from your DEX tools, monitoring data needs to be enriched with information, such as user location and device. Automation leverages the capabilities of multiple HDIM tools to access this and trigger workflows to address issues affecting employee experiences. Tasks that can be automated opening and closing tickets, task assignment, and end user communications.
DaaS/VDI: Leverage cross HDIM tool automation to automatically scale up or down DaaS based on usage patterns or tune performance to enhance the user experience.
Cloud: Leverage connectors to cloud and on-prem management systems and use pre-defined parameters to automate workflows required to optimize cloud workloads for cost savings and efficiencies.
Cybersecurity asset management (CSAM) is only effective if, when a vulnerability is detected, you can access all the information you need to remediate it without adding further risk. Cross HDIM tool automation allows you to orchestrate remediation, leveraging the greatest amount of information to reduce risk, for example when delivering security patches at scale (including automating time-consuming tasks such as scheduling and end user communications).
Governance, risk & compliance (GRC). You need to access GRC data when making any IT change to ensure its managed in line with legal and regulatory requirements. For example, you can create separate workflows to ensure a laptop on legal hold isn't updated during Windows servicing, or workloads that must remain on-prem for regulatory reasons aren't moved during a cloud migration.
One way of leveraging both simple and cross HDIM tool automation for complex IT change initiatives is to use a digital platform conductor (DPC). The term was coined by Gartner in April 2021 to describe a tool that allows I&O leaders to see across their hybrid digital infrastructure to understand what they have and ensure that it delivers value. DPC tools have been recognized as transformational in four Gartner hype cycles.
How a DPC works
A DPC connects to your disparate HDIM tools, including those managing your DaaS, ITSM, ITAM, UEM, DEX, CSAM, GRC as well as any other data store and leverages the information held within them to enhance the digital workplace experience. It uses pre-defined event rules to orchestrate workflows and implement changes across those tools. This allows you to take a more agile and proactive approach to achieving IT and organizational goals and reducing risk as changes are implemented.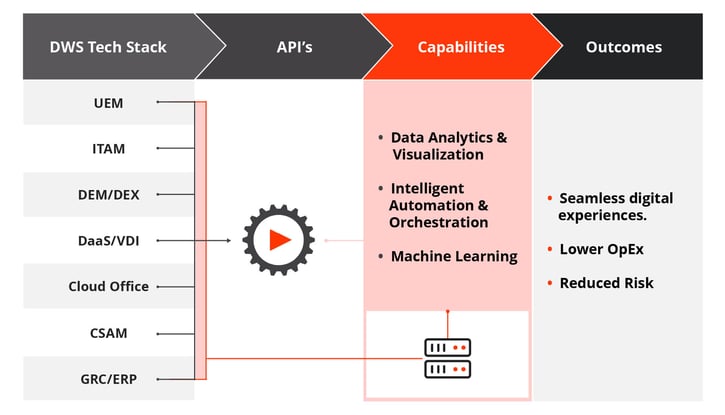 When is the best time to implement a DPC?
Because a digital platform conductor connects to and orchestrates your disparate HDIM tools, you can use it to enhance their value and deliver any IT program faster with less risk and cost. A DPC scales to meet your needs as your organization grows and, as you evolve, it continues to cut through IT complexity, connecting to new tools as you add them.
Using a DPC you can reduce the effort of simple cross HDIM tool workflows, moving your team focus away from managing repetitive tasks to more valuable work. You can also leverage complex HDIM tool orchestration to deliver on new business initiatives. One compelling use case is for the delivery of an enhanced end user digital experience throughout the employee journey from onboarding through to offboarding. Connect IT and other business units digitally to streamline the process of building, provisioning, and delivering technology for new hires and recouping it from leavers to optimize asset management. Leverage monitoring tools to highlight issues and trigger the opening of tickets and assign tasks to resolve them before the user becomes frustrated.
Book a demo with ReadyWorks to understand how a digital platform conductor can help you can enhance your digital workplace operations.