When many of us relocated to working full- or part-time from home in 2020, we thought it would be a temporary measure, but as time has progressed many companies are seeing the benefits of tapping into a talent pool of workers that can collaborate remotely. It seems that working from home is here to stay in one form or another.
As a result, more companies are deploying Windows Virtual Desktop to help:
Quickly enable secure remote desktops from anywhere.
Deliver the same Windows experience across mobile devices that users would have on their office desktops or laptops.
Keep data protected, storing it on the cloud rather than on devices that can easily be lost or stolen.
Cost is based on consumption – you only pay for the licenses you use. But to right-size capacity and optimize costs, you'll need to know more about your users, usage patterns, and business needs. Here are some tips to help you with your balancing act:
1. Pool Your Resources
You can create a Virtual Machine (VM) for each user and assign capacity in line with their peak usage – but doing that you'll likely be paying for capacity they will never use. Here are a few options to mitigate this:
Use Azure Windows 10 Enterprise multi-session to assign multiple users to a single VM.
Assign a host pool – or collection of one or more identical VMs within a Windows Virtual Desktop environment, for team members who have the same requirements.
Set up load balancing across host pools to manage capacity, by breadth – allocating users across the host pool evenly, or depth – having multiple users attach to a VM and adding a new VM once capacity is reached.
To successfully implement these options and optimize usage and costs, you'll need to:
Collect usage information from your Active Directory (AD).
Spend time working with users and managers to identify:
Working patterns, such as shift workers who could access the same VMs at different times of the day.
Critical users or roles that require additional capacity.
Users with the same requirements that can be grouped in host pools.
Done manually this is going to take time and headcount, and it's not a one-off task! To align with business and employee changes, you'll have to monitor usage and update your source data regularly.
2. Scale Service Up and Down
To balance costs with capacity required you'll want to rapidly scale up service when it's needed and scale down or turn off if it's no longer required. But to do this with any success, you'll need to regularly revisit your data to understand employee and business changes and align with key decision makers to confirm when to turn off VMs or reallocate capacity in host pools.
3. Identify Downtime to Save Costs
Are there strict working hours in your organization, meaning that everyone signs on and off the network by certain times of the day? Good news if that's the case! You can switch off your virtual machines outside of office hours and save approximately 27% of the cost of having them always available!
At some companies, if you do this, you're not going to be popular – you'll want to ensure people working outside of core office hours can do their jobs. Again, you're going to have to spend time communicating with business heads and managers to understand:
If there's a core workforce that works certain hours. Who, what, and where are they (in the business and geographically)?
What capacity you need to manage access requirements outside business hours without paying for capacity that isn't used.
4. Adopt Automation to Save Time, Costs and Effort
It's clear that if you want to optimize the usage and costs of Windows Virtual Desktop for your company, you're going to have to balance cost savings with the costs you incur by allocating resources to monitoring usage patterns, collating data from AD, and communicating with the business and users.
Done manually, you won't be able to right-size in real-time, you will have to accept paying for some unused capacity to make sure you meet the needs of every user! If you want even more agility and flexibility, you may want to consider adopting a greater level of automation!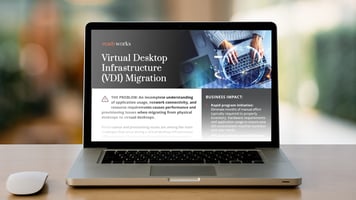 Learn how ReadyWorks and accelerate
your VDI migration.
DOWNLOAD NOW
ReadyWorks allows you to cut the costs of using Windows Virtual Desktop by:
Connecting to your tools and automating collation of the latest data.
Orchestrating tools leveraging pre-defined triggers for workflows such as moving users into host pools if they begin working in a particular team, or enabling load-balancing and VM switch-off based on real-time usage.
Reducing the time spent communicating with users using a self-service portal which users can access to add in requirements that begin automated workflows.
Automating communications, triggered by predefined criteria, for example, setting a storage capacity limit so that when a user is nearing that limit, they are automatically notified about what they need to do to avoid incurring costs for the company.
Schedule a demo with ReadyWorks to see how you can automate the repeatable tasks associated with managing Windows Virtual Desktop to cut activities by 50% or more and right-size capacity for your users in real-time.